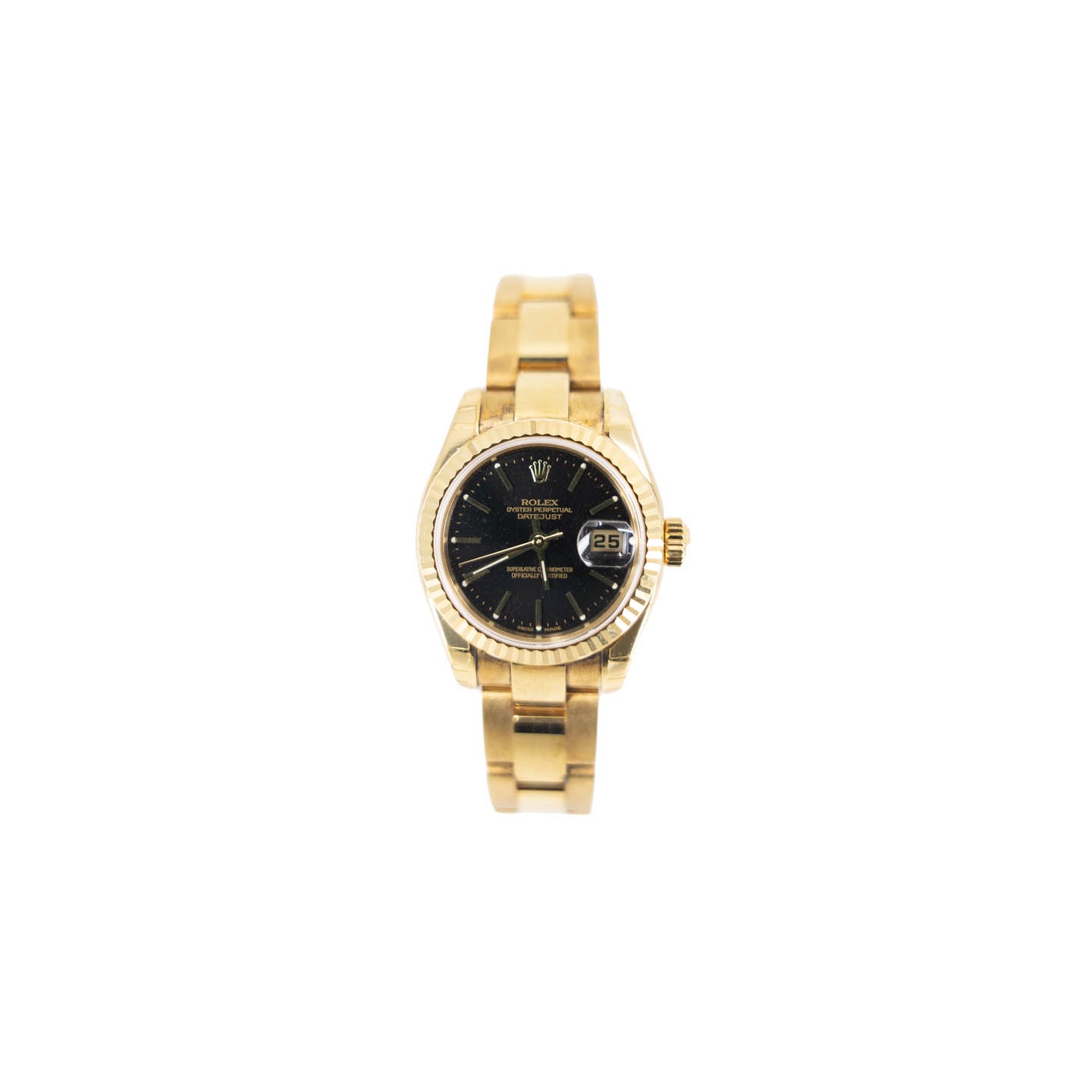 Rolex Daydate Lady's Black Dial 26mm
Brand: Rolex
Gender: women's
Model: 179178
Movement: automatic
Dial: Factory black
Case: 18k gold, fluted bezel, oyster fold clasp
Bracelet: 18k gold, oyster bracelet
Preowned Condition: excellent
---
Rolex Daydate Lady's Black Dial 26mm
FAQ

What if the product is not the size or length I need?

We offer a one-time complimentary resizing on every purchase. Simply note your preferred size/length in the comment section before checkout and we will have it resized and sent to you!

What is the return policy?

We have a 30-day return policy. Read more here. (Link to return policy) need to ask you about that

Are all of your diamonds natural diamonds?

Mostly all of our diamonds are 100% natural, ethically sourced and GIA certified unless stated otherwise. We have a small collection of lab grown diamond products as well but natural diamonds are what we specialize in. 

Do you offer lab grown diamonds?

Yes! If you are looking for alternative pricing, lab grown diamonds can be a great choice. We update our lab grown diamond jewelry collection frequently and can give you updates on new inventory. We can also source and order them for you for custom pieces or settings. 

Can we come to your location without an appointment?

Yes, of course! You don't need an appointment to stop in, take a look in our showroom or come in for a quick service.

How long do custom orders take?

This depends on the materials, resources, and amount of labor your custom order requires. We recommend starting the ordering process 4-5 weeks ahead of your preferred date just to be safe. Some orders take days and some take weeks. 

How much is a repair or watch battery?

Please fill out the contact form to inquire about pricing.

What does tw mean?

Tw is the total weight in carats (or ct). All gemstones including diamonds are weighed in carats. If there are multiple stones on a piece of jewelry, we will say that the total weight of all the gemstones in carats is ___tw. 

Do you offer payment plans?

Yes! You are able to register for the shop to pay online or we offer layaways in-store.

Do you ship out of state?

Is all of your jewelry gold?

Yes our online jewelry collection is all 14k or 18k gold however, we do have sterling silver in-store so if you are interested in sterling silver please fill out a contact form to inquire about ordering. 

Can I make an appointment to come into the store to see the watch in person?

Absolutely, please fill out a contact form.